Symmetric – Manager Report Cards
Symmetric – Manager Report Cards
It's time for report cards – manager report cards. While evaluating returns is critical, it's almost more important to understand the source and diversity of returns. To that end, our clients asked us to launch individual PDF reports that provide the performance attribution for individual managers.
Today's email illustrates how our clients use Symmetric.io to pull performance attribution reports on individual managers.
Our clients include more than a hundred funds of funds, family offices, pensions, endowments, among other institutional investors. I'm going to show how clients upload return streams and download returns analyses to excel & PDF. There are many others — some clients actually buy our data-feeds, including the holdings and proprietary, behavioral factors. But we'll stick with the Symmetric Attribution Report for now.
What is the Symmetric Hedge Fund Performance Attribution Report?
Returns-analysis alone has a tendency to mask a few lucky bets. By making a position-level analysis, the Symmetric Attribution Report analyzes the manager's skill and source of returns.
It's built on the Brinson-Fachler performance attribution model, which provides a methodology to ascertain manager-skill. Starting with disclosed holdings, the model can isolate a manager's ability to pick stocks, pick sectors, and size positions by comparing their decisions to an investor's passive alternative: an index such as the S&P 500. The attribution analysis is based on the disclosed holdings of the manager.
While most managers will rarely shed light on their individual holdings and timing of various trades, managers with more than $100m in regulatory AUM must typically disclose their holdings regularly through filing Form 13F with the SEC. The Symmetric Performance Attribution Reports incorporate these filings as a starting point for the analysis. Should clients have additional disclosure, through a separately managed account, for example, Symmetric's systems can also run the analysis on a client's historical holdings on a proprietary basis.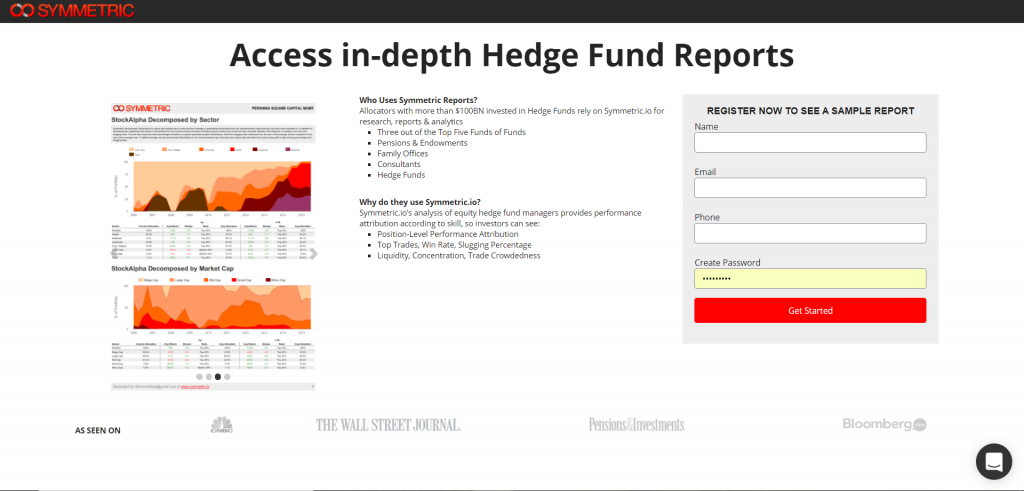 Each Symmetric report runs just under twenty pages and extend to include:
Performance Attribution: StockAlpha, SectorAlpha, SizingAlpha
Manager metrics, such as drawdowns, sharpe, ranking, absolute return estimates
Most important trades — Winners & Losers
Position Changes – Increased size, Decreased size, Closed, New
Turnover, Liquidity & Liquidation Risk
Exposure to popular & crowded Hedge Fund Positions
How do I get the Hedge Fund Manager Performance Attribution Report?
Click on this link to go to our site and see a sample report. Clients have access to the reports on all managers, and non-clients can purchase them on an individual basis.
And That's How You Can Get Performance Attribution Reports on Hedge Funds Through Symmetric 
Again, there are many other ways we provide insights into hedge fund performance, exposures, and risk. Many of these rely on our cleaned, survivorship unbiased 13F holdings data from the Symmetric platform. Some clients, such as our quantitative investor clients, will also buy our underlying data-feeds. Please feel free to get in touch if you have any questions or would like us to drill down on any specific areas of functionality.