How to Download 13F Holdings Data to Excel
How to Download 13F Holdings Data to Excel
The deadline for filing 13F disclosures with the SEC is coming up on November 14th. We thought it would be a good time to review some of the functionality in Symmetric to help newcomers to the service with getting the most out of the platform during this time. Who knows, it may help some old-timers as well!
Today's post is targeted toward helping clients download position-level data from managers and portfolios of managers.
Monitoring 13F Holdings Data with Symmetric
Many of our clients use our cloud service to keep track of investment managers, their positions, exposures, and their day to day moves. It's a simple portfolio monitoring solution that helps automate the manager monitoring process. To that end, I'm going to show two ways to download disclosed holdings data from the system. There are many others — some clients actually buy our data-feeds, including the holdings and our proprietary, behavioral factors. But we'll stick with two examples from the web for now.
Downloading 13F Holdings Data to Excel for a Single Manager
You can download a manager's positions in three simple steps. First, go to the manager's page. You can use the Search Bar at the top right to find a manager if you're just getting started.
When you're on the manager's page, just click the tab that says Position Level Data. The screen below illustrates the Search Bar, Manager Profile and Position Level Data tab for Greenlight Capital.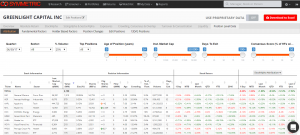 From here, just click on the button labeled Download to Excel, and you'll have an excel version of the web-table sitting on your desktop, with everything you need: security information, stock performance, performance attribution, etc.
Downloading 13F Holdings Data to Excel for a Multiple Managers
You can download the holdings for a portfolio of manager's positions in three simple steps. First, go to the portfolio page by clicking on the tab at the top of the screen marked Portfolios. If you haven't set up a portfolio, you can do so by clicking the button marked + New Portfolio of Managers. Adding managers is a snap, allows individual weights, and is helped along with ultra-fast search. The screen grab below illustrates the portfolio tab at the top, the portfolio page, and the box that pops up when you would like to enter a new portfolio.

Once you have your portfolio in place, you'll see it in the list on the portfolio page. In fact, you can see some sample portfolios listed in the illustration above. Click on the name of the portfolio that you want to download. This will show you the overview analysis of the portfolio. It includes the list of managers, the StockAlpha or Long Performance of the 13F portfolio, and the performance chart over time. StockAlpha is based on the Brinson Fachler performance attribution model and refers to the stock-picking skill of the individual managers based on the market, sector and beta adjusted performance of the individual positions.
The third and final step: click on the button marked Download Excel Report. This will give you a couple of options. Many clients like the monthly and the quarter to date summaries, but it's also available in month to date and daily. The screen grab below illustrates the overview page, menu of options, and the Download Excel Report button. You'll notice that it also has a variety of other pieces of functionality, including analyses of exposures to Fundamental Factors, an Overlap Matrix that shows how the funds' positions overlap, and an option to show how Position Changes have flowed through each manager (there's another excel report in there), among others.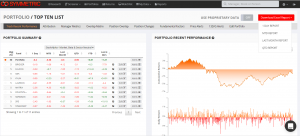 Pick your option, and you'll have an excel report sitting on your desktop, with everything you need: security information, stock performance, performance attribution, etc. This one, however, will be a full workbook that contains individual sheets for each manager, a sheet with the manager-weighted positions for the entire, consolidated portfolio, and a summary for top-level manager performance, including their biggest winners and losers, on a stock and sector basis. Again, these are calculated on a long only and a StockAlpha basis. I've included a screen grab to illustrate the workbook below.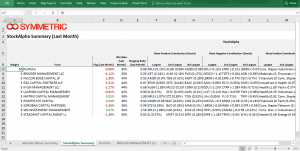 And that's how you download 13F Holdings Data to Excel
Again, there are many other ways to extract 13F holdings data from the Symmetric platform. Indeed, some clients, such as our quantitative investor clients, actually buy our data-feeds. These include cleaned, survivorship unbiased holdings data, investor classifications, and our proprietary behavioral factors, including stress, crowding, turnover, etc. Please feel free to get in touch if you have any questions or would like us to drill down on any specific areas of functionality.