Succession by Acquisition – Biogen, Merck & Allergan
Nothing says succession plan like an acquisition. Last month, Biogen Inc Chief Executive George Scangos announced he would step down in the coming months. Today, acquisition chatter has grown so loud, the Wall Street Journal is reporting on it. Hedge funds have had a tough year. Is anyone capitalizing on the possible transaction?
The companies fingered as possible acquirers include Merck & Co. and Allergan PLC. To say the acquisition would be "huge" is putting it mildly. Biogen had a market value of $68b as of Tuesday and both Merck and Allergan's market values are north of $100b — coming in at $162b and $101b, respectively. Biogen's drug pipeline, though, is nascent. In the investment world, it might be considered a concentrated bundle of idiosyncratic risk. In other words,  they have a number of drugs in development that are far from being qualified for the market. For Merck and Allergan, it might be just the thing to supplement what have been characterized as diminished pipelines.
Hedge funds are supposed to be good at picking out opportunities in the market. Biogen's pipeline could be exactly such an opportunity, and the stock as responded well so far this year. While the iShares Nasdaq Biotechnology (IBB) is down more that 12% year to date, Biogen is up more than 7%.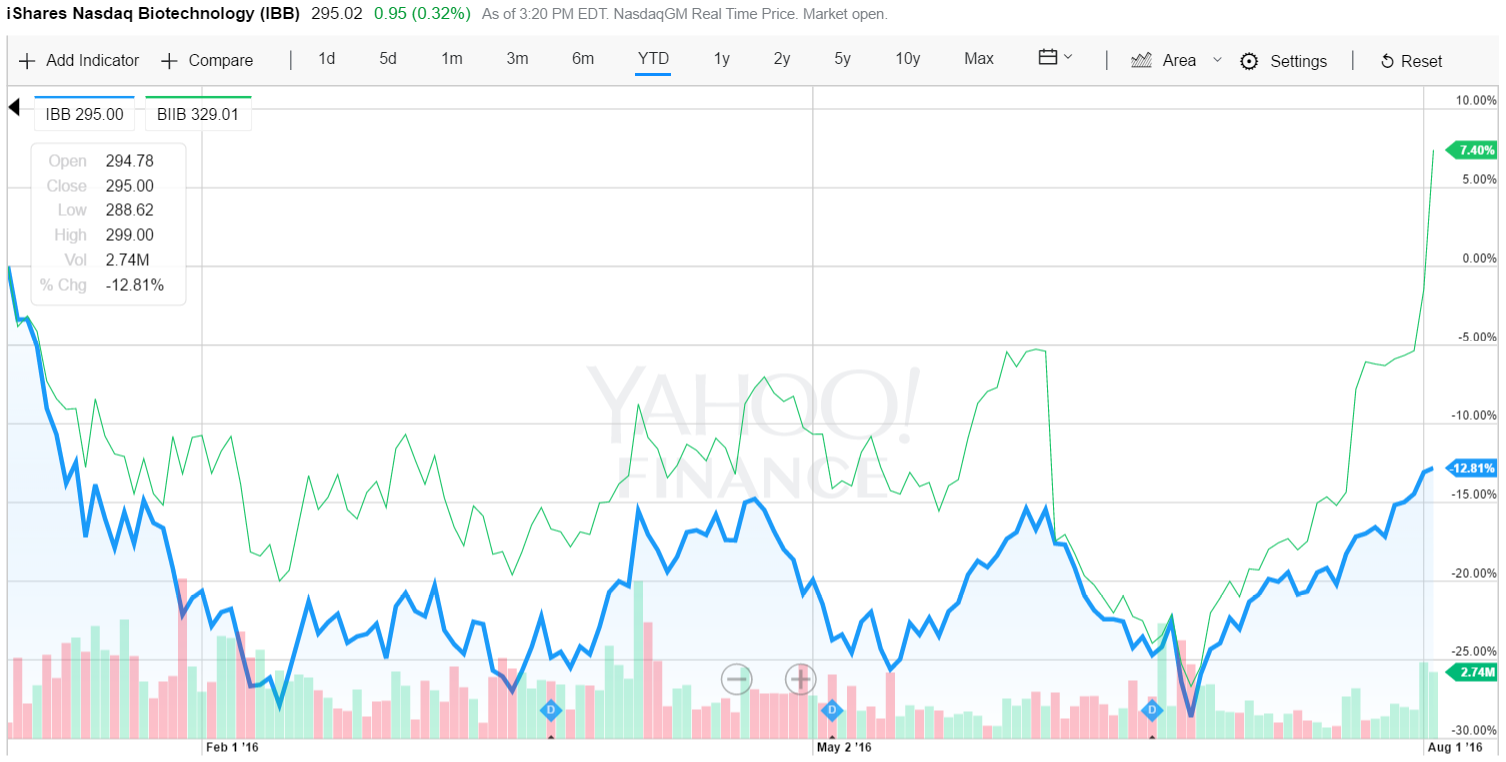 Indeed, some hedge fund investors appear to have managed the investment case for Biogen wisely. Though it's not considered crowded hedge fund holding, it is by no means a contrarian hedge fund holding. More than one hundred hedge funds hold Biogen, making it a consensus position. Perhaps owing to its size, though, it is not crowded. Only seven percent of the institutional float is held by hedge funds. But as of the last filing date, hedge funds with the highest StockAlpha, a measure of stock-picking skill, were pouring into Biogen. While hedge fund managers, overall, were selling out of Biogen, those with the highest StockAlpha, were buying into it — adding 322,871 and otherwise growing their collective stake by almost 10%.

Who were these managers?
Jacob Doft's Highline Capital Management was one. Highline manages a book that concentrates more than 50% of its holdings in its top ten positions, and their StockAlpha measures over the past three years have put them in the top 25% of stock-pickers in the hedge fund universe. Biogen was a top twenty position for Doft, and amounted to more than 3% of the publicly disclosed book. As of the latest disclosure, Doft had increased his exposure to Biogen by 146,000 shares. Stephen Dubois' Camber Capital Management tells a similar story. Camber's StockAlpha measures for the past three years have also put them in the top 25% of hedge fund stock pickers. As of the latest disclosure, Dubois initiated a position of 175,000 shares. A sample of the key hedge fund holders from Symmetric.io follows. Click to register for more detail on each manager.