Above the Crowd – Positioning for Today's Hedge Fund Holdings Release
It's time to take a peek under the hood of hedge fund managers' portfolios. Once a quarter, hedge funds disclose their quarter-end long positions through 13-F filings, and today is the deadline. These filings offer a timely, telling perspective on the decisions managers have made and clues on where the smart money might be headed.
But it's not enough to look through the 13-F filings on their own. Just reading the holdings and hoping to follow a few favorite managers into their top positions is a recipe for disaster. Instead, sophisticated investors cut the data and couple it with their own research. One popular way to look at the data is through hedge fund crowding. Crowding analysis looks at the concentration of hedge fund ownership throughout the equity universe.
But rather than just looking at which positions have the highest hedge fund ownership, why not look at the positions that aren't yet considered crowded but have seen the largest increases in hedge fund ownership? That's where the smart money is headed, right?
The Symmetric.io security screener provides a quick glimpse into exactly this. It shows the most crowded trades, but it also digs into which trades are just starting to get crowded, while controlling for market cap and other factors, as well. The screen-grab below filters for positions that have at least $5b in institutional ownership and have less than 15% of hedge fund ownership, so these are reasonably large, liquid positions that are not quite crowded enough to raise any flags. The final results are sorted by the arithmetic increase in hedge fund concentration.

The top five positions that have increased the most in terms of crowding are Seagate Technology (STX), Marathon Oil Corp (MRO), Michaels Companies (MIK), L-3 Communications Holdings (LLL), and Symantec Corp. (SYMC). These are the positions that, as of the end of Q2, had increased the most in terms of hedge fund crowding, had a minimum of $5b in institutional ownership, and were still below the radar — as in, they weren't flagged as crowded trades.
How did these positions do? Well, we charted them to see how they performed as of the filing date. It's the date at which they disclosed the position to the SEC, so the holdings would have been available to anyone willing to do the analysis. From that time to today, the S&P 500 (SPY) is up 6.78%. Four out of the five positions that met our criteria are up more than the S&P 500. On a equal-weighted basis, the basket of five positions is up 21.16%.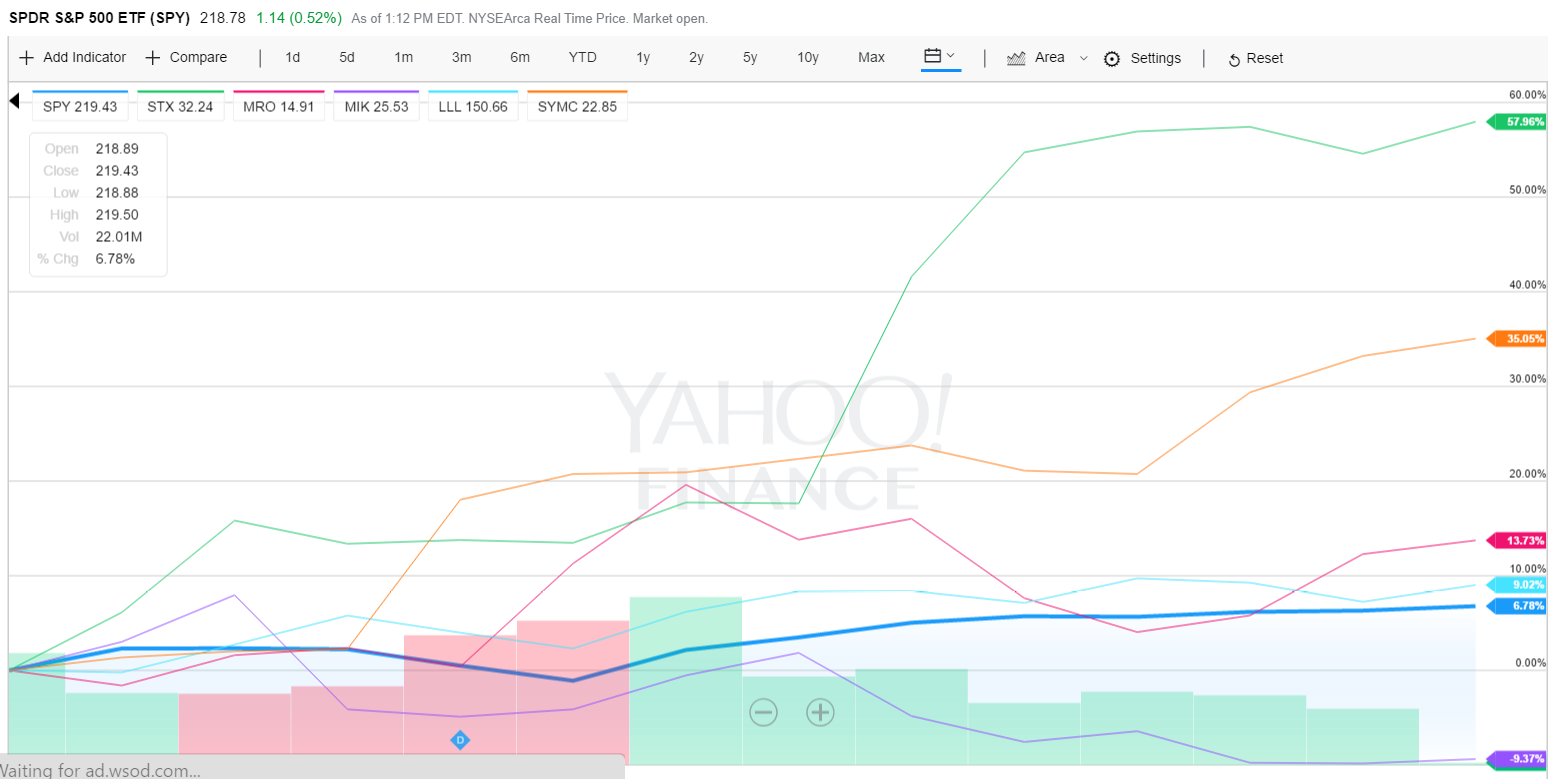 Naturally, these returns have been calculated ex post, and there's no way of know of know how this strategy will perform in the coming quarter. It could reverse entirely, after all.  Nonetheless, the data comes out today and will be available for analysis tomorrow at Symmetric.io. What will the next five names be?
As always, the information contained herein does not constitute an offer to sell or a solicitation of an offer to purchase any securities and is not intended to provide investment advice. Before investing in any investment product you should consult with your financial, tax and/or legal advisors.