Hedge Funds Like ETFs Too
It's been a rough first half of the year for hedge funds. The many shocks to the market encouraged managers to take risk down, yielding, at times, dramatic results. Crowded trades suffered from as the hedge funds that had followed each other into crowded stocks searched for the exits. But just because some of these ideas were crowded didn't necessarily make them bad. Many were just illiquid or unpopular. But what about the most liquid, crowded trades? How did they do?
Symmetric.io noticed that ETFs have become increasingly popular among hedge funds. These tend to be among the most liquid holdings in a manager's portfolio. Hedge funds use them to provide long exposure to individual sectors, such as biotech (IBB), commodities, such as Gold (GLD), or whole geographies, such as Brazil (EWZ) or the emerging markets (EEM). It turns out that the most crowded hedge fund bets on ETFs have performed surprisingly well.
Symmetric.io combed through the entire universe of 13F filers to identify the most commonly held ETFs among institutional  investors. Then we calculated the percentage held by hedge funds and pared the list back to the top ten ETFs with the highest concentration of hedge fund ownership — the most crowded ETFs.
May eighteenth would have been the first day from the disclosure date during which one could have purchased those top ten, most crowded ETFs. Since then, an equally weighted portfolio would have risen 4.9%, while the S&P500 (SPY) has only risen 1.2% through yesterday.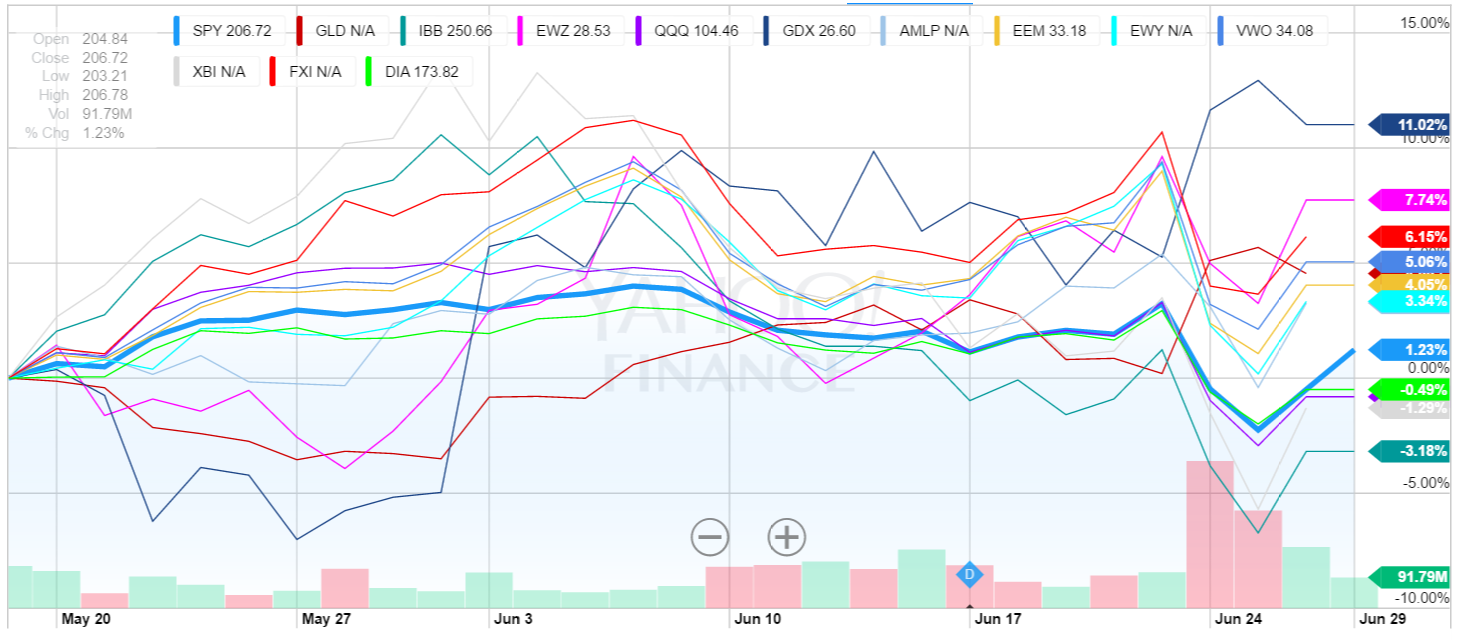 It remains to be seen if this effect will persist or if it is an isolated incident. These ten ETFs could fall off a cliff in the coming days or weeks, and the same thing might not happen in August, when hedge funds release their latest holdings. Symmetric.io, however, will be there to gather and analyze the data.
The top ten most crowded ETFs considered in this article are as follows:
| | | |
| --- | --- | --- |
| Ticker | Performance | Name |
| GLD | 8.1% | SPDR Gold Shares (GLD) |
| EWZ | 7.7% | iShares MSCI Brazil Capped (EWZ) |
| GDX | 11.0% | VanEck Vectors Gold Miners ETF (GDX) |
| AMLP | 3.3% | Alerian MLP ETF |
| EEM | 4.1% | iShares MSCI Emerging Markets (EEM) |
| EWY | 5.8% | iShares MSCI South Korea Capped (EWY) |
| VWO | 5.1% | Vanguard FTSE Emerging Markets ETF (VWO) |
| XBI | 2.9% | SPDR S&P Biotech ETF (XBI) |
| FXI | 6.2% | iShares China Large-Cap (FXI) |
| QQQ | -0.8% | PowerShares QQQ ETF (QQQ) |
| IBB | -3.2% | iShares Nasdaq Biotechnology (IBB) |
| DIA | -0.5% | SPDR Dow Jones Industrial Average ETF (DIA) |